Infino's parent company, Kinex Media, has been named one of the Globe and Mail's Top Growing Companies yet again in 2023. We are so proud that Kinex has maintained its streak, as it also got this prestigious recognition last year, in 2022 as well. This editorial ranking only lists those progress-oriented and self-reliant businesses across Canada to celebrate the spirit of entrepreneurship.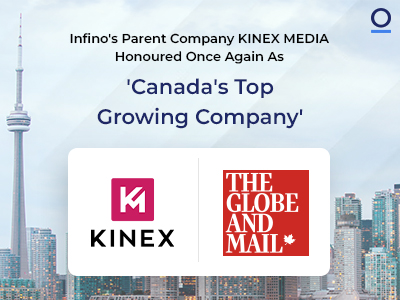 Kinex Media's inclusion in this prestigious list is a testament to their unwavering dedication to delivering innovative solutions. However, their story does not end there. Since the inception of Kinex in 2008, they have continuously evolved and refined their strategies to deliver great and personalized digital experiences to their cherished clients. They have been able to do it because of their world-class team of expert strategists, highly skilled marketers, and specialist web developers. Infinions have also played a huge role in their growth, along with contributing to the success of their clients. 
"We are so happy to be named to the Globe and Mail's Top Growing Companies list once again in 2023," said Amir Waheed, Co-Founder of Kinex Media. "The reason behind our continuous success is our team's passion and commitment to provide exemplary digital experiences to our clients."
"Kinex Media has shown regular growth since its launch in 2008. We have helped a lot of Canadian brands achieve immense success with the power of digital transformation. By using our time-tested and proven strategies, Kinex Media has helped many retailers and brands reach millions of their target customers each month. We've stuck to our strategy without changing our business model, USP, or guiding principles, which has helped us achieve continuous growth year-over-year," says Karan Sharma, Co-Founder of Kinex Media and Founder of Infino Digital Agency. 
Behind every successful venture, there's a team of exceptional individuals. At Kinex Media, their working professionals(which also includes us) have consistently gone above and beyond. They have exceeded expectations and added tremendous value to their esteemed clients. Brands such as Lastman's Bad Boy, Catelli, Staples, Cannon, Becker Shoes, and many others have witnessed remarkable growth thanks to the dedicated team of Kinex. 
"Any business leader seeking inspiration should look no further than the businesses on this year's Report on the Business Ranking of Canada's Top Growing Companies," says Phillip Crawley, Publisher and CEO of The Globe and Mail. "Their growth helps to make Canada a better place, and we are proud to bring their stories to our readers."
About The Globe and Mail
Through brave and independent journalism, The Globe and Mail has led the national discussion since 1844. In print and digital formats, The Globe and Mail newspaper reaches 6.4 million readers each week, while Report on Business magazine reaches 2 million readers every issue. By investing in innovative data science, The Globe and Mail will remain relevant even as the world changes. Woodbridge, the investment arm of the Thomson family, owns the Globe and Mail.
What Lies Ahead?
But what's on the horizon for Kinex Media? They're not content with simply resting on their awards. In the coming years, they are committed to expanding their workforce and welcoming more talented individuals who share the same passion for innovation and growth.
Do you want to work for Kinex Media, which is one of the topmost companies in Canada? If you really are, then you should definitely join Infino Digital Agency. Your journey of growth will start with Infino, for sure.
Contact our HR department at career@infino.co or give us a call at 987-642-2198 now.